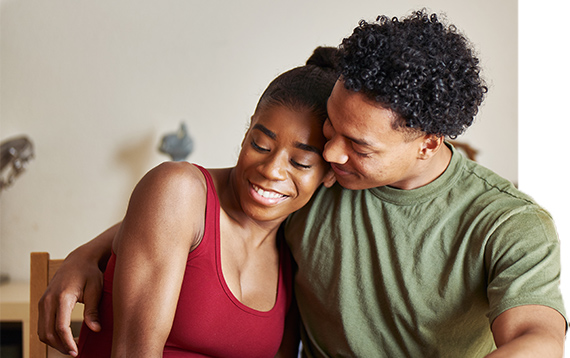 Couples Story – Our Relationship Is Stronger
After being married for nearly fifteen years with three children, my wife and I found ourselves feeling disconnected from each other, with frequent disagreements and little time for the romance we once had earlier in our relationship.
We decided to try couples counseling, hopeful that our relationship could improve. With our busy schedules, we were glad that we could fit in our couples counseling appointment via teletherapy. From the very first session, we both felt understood by our counselor, who was able to see each of our perspectives.
One of the first things we learned during our sessions was how to truly listen to each other using reflective listening skills to make sure we understand each other. Reflective listening is listening to another person and reflecting back what was said. It sounds so simple, but it has made a huge difference.
As we continued with couples counseling, we began to feel more comfortable with our counselor, who was kind and caring. We would sometimes discuss conflicts during our sessions, which, though painful, was very helpful to have our counselor's observations and suggestions in real time. For instance, I learned that I tended to escalate our arguments, which only caused my wife to stonewall. From our counselor's guidance, we learned to become more aware of our own feelings and behaviors and also empathize with each other. It takes time to fix old habits and behaviors, but just creating an awareness and acquiring tools to change those damaging behaviors has been life-changing for our marriage.
Going into couples counseling, I was looking for a quick fix. I just wanted everything to be patched up as fast as possible! The problems in our relationship didn't happen overnight, and neither would our solutions. But, our relationship is so much stronger because of the work we have done in our couples counseling. We feel more connected and able to have healthier conflicts without escalation or stonewalling coming in the way. We are grateful to our couples counselor and SamaraCare for helping us to repair and strengthen our marriage.
Get Started Today.
Get Started
Be Included
Recieve our Newsletter to get the latest News and Events.