Getting Started with SamaraCare
Welcome! Taking care of your mental health can sometimes feel intimidating, but it's easier than you think, and we'll help all along the way. On this page, we'll walk you step-by-step through the process of finding a care provider who's just right for you, while making sure everything is ready for an easy and comfortable first visit. You have the power to improve your mental well-being, and that starts right now.
Choose A Care Provider
Your first step is using the Choose a Care Provider search function to zero in on a provider whose background, experience, and specializations meet your unique needs. The information you share with your therapist or psychiatrist is strictly confidential. Your care will be provided in an environment that is affirming, safe, and hopeful. Our clinical staff is licensed and has post graduate degrees at the masters and/or doctoral levels. Additionally, many of our counselors have been trained to offer spiritually integrated counseling across numerous faith/life perspectives for those interested in this option.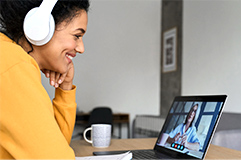 Teletherapy Mental Health Care
Many of our care providers offer online sessions, so you can meet from the convenience of your home, office, or anywhere.
Coverage Options
If you're using insurance, we encourage you to check with your insurance provider about your behavioral health coverage. We can help you identify which care provider is in your network and determine how much of the cost your insurance covers. Payment is expected at time of service. You can search for and select a care provider based on your insurance. Listed below are the current insurance plans we accept. If you do not see your insurance listed, please contact our Business Office at 630.357.2456 to see if we have added new insurance carriers. Currently, we only accept Blue Cross Blue Shield PPO insurance for psychiatric services.
SamaraCare counselors are affiliated with many insurance providers including:
Blue Cross Blue Shield PPO
Medicare PPO
UnitedHealth Care PPO
Aetna PPO
I Have Questions
Reduced Cost Care
If you are uninsured, underinsured, or coping with financial hardship, we offer reduced cost care through our "Mental Health Access Program." Those applying need to establish eligibility prior to their first appointment.
See If You Qualify
Prepare for Your Visit
By scheduling and preparing for a visit, you're taking the most important step towards improving your mental health. Your first visit is known as your intake session. If you're seeing a psychiatrist, two intake sessions may be necessary.
For telehealth visits, please download and install the necessary video conferencing software before your scheduled appointment. For in-person visits please arrive 15 minutes before your appointment. Bring or email a photo ID and health insurance card (if applicable). In addition to credit cards both cash and checks are accepted.
Counseling sessions are typically 45-53 minutes. Psychiatry appointments vary in length. Feel free to ask your care provider any questions about the treatment process and your expectations. Your counselor or psychiatrist will ask about the concerns you want to address, how long you've been experiencing them and what you've done, if anything, to treat or cope with them.
Finally, you'll need to complete all of the online intake forms prior to your first visit (see the next step).
I Have Questions
Pre-Visit Forms
Once you schedule an appointment, we'll send you a personalized and confidential link to an online portal where you can set up an account and complete all pre-visit forms. If you don't receive that link, please contact our Business Office at 630.357.2456. Listed below are the forms to be completed prior to receiving services:
•        Intake Form
•        Informed Consent and Counseling Agreement
•        Financial Policy Agreement
•        Informed Consent for In-Person Services during COVID-19 health crisis
•        Informed Consent for Phone or Video Chat Sessions
•        Credit Card/Debit Card Consent
•        Notice of Privacy Practices Summary
Thank you for your trust in us and we look forward to seeing you!
I Have Questions