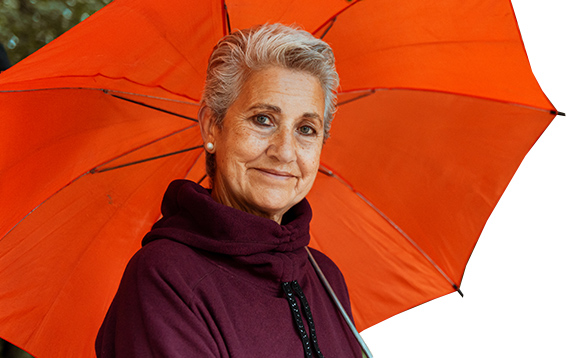 Loss and Hope During the Holidays
When my husband died a year ago, I was devastated. My world was turned upside down. We were married forty years and raised three children. We were best friends and did everything together. I just didn't know how to go on living after he died. Right after his death, I was so busy with the funeral and paperwork that I didn't have time to really experience my feelings, my grief. But as time passed and I had more time alone, I realized how profoundly I missed him. I didn't know how to create a new life without him in it. A close friend noticed I seemed withdrawn and sad, and recommended I call SamaraCare to begin therapy.
I reluctantly began therapy with a SamaraCare counselor not knowing how or if it would help, but I was sure it couldn't hurt. In therapy we delved into my emotions which was at the same time both challenging and comforting. My therapist reassured me that all my feelings were valid. This gave me some peace.
As my therapy continued I recognized that I was not only sad because I missed my husband, but I felt a sense of emptiness and anxiety about celebrating the upcoming holidays.  I had always enjoyed them as a time when our adult children and grandchildren came to our home to celebrate together. But this year, I didn't feel up to hosting my family.  I felt guilty about enjoying the holidays, and didn't know how to pretend to be happy when I was still deeply grieving. My therapist worked with me to develop a plan to cope with my grief during the holidays. I decided to incorporate my husband's favorite pecan pie into our Thanksgiving celebration and share memories with my family.
Through conversations in therapy, I learned that grief is a long, evolving process, and it's okay to seek help and talk about feelings. The holidays were still difficult, but with the support of therapy and my family, I found ways to remember my husband and felt my family's love more than ever. This experience transformed my perspective on grief and counseling, and gave me the strength to navigate life without my husband.
My life changed significantly when my husband died and I am slowly adjusting to my new life without him. Although there were difficult moments, I can honestly say I enjoyed the holidays. I don't know where I would be without therapy. It's helped me in so many ways. I know now that grief takes a very long time to process and that it ebbs and flows. I hope more people seek counseling while experiencing a significant loss as it was life-changing for me!
Get Started Today.
Get Started
Be Included
Recieve our Newsletter to get the latest News and Events.