Mission
SamaraCare helps people achieve their greatest potential by being compassionate and spirit-led counselors, consultants and advocates.
Vision
Nothing stands in the way of people getting the help they need to flourish.
History
SamaraCare was founded in 1971 as an independent, interfaith, non-profit mental health counseling organization by three Naperville congregations to address the unmet mental health needs of the community. Since then, it has expanded to serving clients residing in Chicago's western suburbs. On July 1, 2019, SamaraCare merged with Winnetka-based Samaritan Counseling Center (SCC), a nonprofit organization with similar core values, to become a regional provider of high-quality mental health services. SCC dissolved its corporate charter and folded into SamaraCare's organizational structure. The merger created two internal regions West and North. The North region serves Cook and Lake counties with offices in Chicago, Evanston, Lake Forest, Wilmette, and Winnetka. The West Region serves DuPage, Kane, Will and Kendall counties with offices in Naperville, Downers Grove and Geneva.
What we do
SamaraCare is a 501(c)(3) nonprofit organization that provides high quality, professional mental health counseling and psychological testing for individuals, couples and families of all ages from diverse backgrounds and varied financial means. We offer a wide variety of client-focused and goal-oriented counseling services in a broad range of specialty areas (i.e., anxiety/panic  disorders, depressions/stress, autism spectrum, geriatric issues, gambling, grief and loss, learning disabilities, marital and family conflict, PTSD, social/emotional functioning, substance abuse/addiction and trauma recovery).
In an effort to increase community understanding and reduce the stigma associated with mental health issues, we offer customized mental health educational and wellness presentations to schools, service clubs, and faith/community groups. The presentations are interactive, preventative in nature, share practical  applications and disseminate information about available resources.
Who we serve
SamaraCare serves diverse populations across the lifespan, from the ages of 2-92,  including children, adolescents, adults, seniors, couples, families, bi-lingual households, clergy, teachers, first responders, LGBTQ, trauma/sexual assault survivors, and veterans. Many of our clients pay our standard fee utilizing their health insurance coverage. However, we are committed to providing affordable access to mental health services. We offer reduced fees to qualifying clients who are uninsured or underinsured through our Mental Health Access Program (MHAP). Approximately 30-40% of our clients require financial assistance.
How we are unique
SamaraCare believes that its fees for mental health services should not be a barrier to accessing care. Our Mental Health Access Program ("MHAP") was created, in tandem with our mission, to discount standard fees, using a sliding fee scale. This makes mental health services more affordable for under-resourced  individuals, couples and families, regardless of their health insurance status. It is the funding mechanism that connects economically-challenged clients to one SamaraCare's therapists. Annually, we provide over $600,000 in fee subsidy assistance to qualifying individuals and families.
In addition, we offer spiritually integrated counseling for clients interested in this approach. We respect all faith perspectives or no faith at all, and help our clients engage their faith/life philosophy as they see fit as part of their overall healing and recovery process. We welcome but never require spiritual conversations as part of the therapeutic process. Our counselors are well versed in Christianity, Judaism, and Buddhism, as well as many other faith/life philosophy perspectives.
Our overarching counseling strategy is a plan-oriented team approach that integrates high-quality psychotherapy with pastoral care, which refers to a model of emotional, social and spiritual support that can be found in all cultures and traditions. The term is considered inclusive of distinctly non-religious forms of support, as well as support for people from religious communities.
For more information, please refer to the Mental Health Access Program section on our website.
About our name and tagline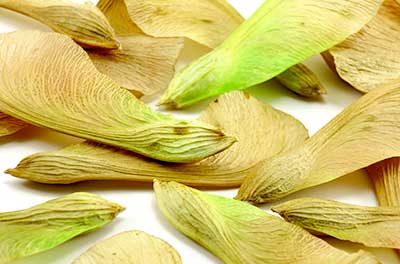 The word "Samara" has a duel meaning. It is a botanical term for a dry winged seed, that can spin down to fertile ground where it can grow and flourish. Its origins are in Hebrew and Arabic and means "guardian" or "protected by God". Both meanings suit us perfectly because they relate to the relationships we have with our clients and partners, and because it connects us to our founding congregations.
The 'Care' part of our name is simple: we care about you, and for you.  We are committed to doing everything in our power to help you reach your greatest potential.
Our tagline "Choose Stronger" refers to ending the stigma associated with mental health issues. We understand and applaud the strength and courage it takes to seek help.
Accredidation
SamaraCare is nationally accredited by the Solihten Institute, Denver CO on a 4 year cycle and was most recently reviewed in 2019. Solihten Institute is a non-profit organization which manages a network of 91 professional counseling centers located across the U.S. The goal of the accreditation process is to ensure that affiliated centers maintain sound organizational structures, efficient management and administration, high-quality clinical processes , careful financial and personnel practices, and professional accountability.
Board of Directors
OFFICERS
Board Chair
Patricia (Patty) Carl; President, Highland Performance Solutions, LLC
Board Vice Chair
Annette Roder Zulawski; Executive Leadership Coach
Treasurer
Mary Lynn Hoffer; Principal, DHJJ
Secretary
Jane Trueheart Huels; Retired
MEMBERS AT LARGE
Theresa Atkins; Business Improvement Mgr., KeHE Distributors
Hwa-Young (Hannah) Chong; Lead Pastor, Community UMC
John Gallagher; Retired; Exterior Designs, Inc.
Edward (Ed) Graham; Atty, Law Offices of Edward P. Graham, Ltd.
Amanda Spear Hartley; Scientific Team Lead, Parexel International
Kerry Quirin; Consultant; Senior Living Experts
Beth Sack; Manager, Addiction Services, Linden Oaks Behavioral Health
William (Bill) Smith; CEO, Knockerball USA
CEO Bio
Rev. Dr. Scott Mitchell, PsyD is the President and CEO of SamaraCare,  a nonprofit provider of progressive, life changing counseling and consulting services based in Naperville, IL. The organization has counseling centers located throughout the north and west regions of Chicago and serves clients in Cook, DuPage, Kane, Kendall, Lake, and Will counties.
As a Clinical Psychologist and Clergy, Dr. Mitchell has over 30 years of experience working with anxiety disorders, complicated grief reactions, post-traumatic stress, and stress management. He has a special interest in the development of preventative factors that build resilience across the life span and the role of spirituality in resilience.  He has a passion for empowering individuals, leaders and organizations to be the best they can be in an ever-changing world and has adapted the concepts of resilience at the organizational level to help leaders learn and apply spiritual hardiness, stress hardiness, and adaptive leadership to better their organization and personal lives.  Dr. Mitchell has also been a long-standing member of The Rotary Club of Naperville and has served on various task forces associated with mental health.
Leadership Team
Dr. Scott Mitchell, President & CEO
Michael Bradburn, Clinical Director, West Region
Joellen Hosler, Clinical Director, North Region
Colleen Wronski, Director of Finance
William B. Peterson, Director of Development (Corporate & West Region)
Anita Scott, Director of Development (North Region)
Collaborations
SamaraCare believes affordable access to mental health care is the cornerstone of a healthy community. To demonstrate this, we collaborate with a number of organizations serving low/moderate and "at risk" populations. By increasing access to counseling services, SamaraCare improves the mental health outcomes of our partner's clients by providing a pathway to hope, healing and recovery. This allows our partners to focus on what they do best – providing basic human needs. We continuously explore opportunities for additional strategic relationships. Our partner agencies and organizations include:
1) Loaves & Fishes Community Services (serving food insecure populations)
2) Bridge Communities (serving homeless families in transition)
3) Naperville Elderly Homes & Riverwalk Adult Day Care (serving low/moderate income seniors)
4) Local area congregations/schools for client referrals and community education
5) Local park districts for community education
6) Local service clubs for community education
JOIN US
Whether you're seeking care for yourself or someone you love, plan to attend one of our events or wish to change someone's life by making a donation, we welcome you to SamaraCare.